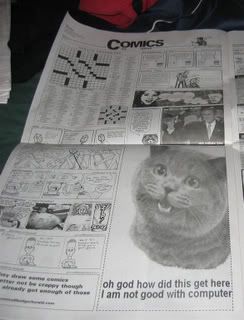 Do you feel like this sometimes?
That's okay.  I can help.
I fix things.  That's what I do.  I also understand what it's like to walk into a store like Best Buy and try to get someone who can really help you.  The problem in general, is that these companies don't care about you and don't care about your problems. All they care about is your money, and whether or not they will get it.  This means that if you go into a Best Buy with that dazed look in your eyes, they'll see it, capitalize on it, and before you know it, you're outside with hundreds of dollars of things you don't need or have no use for.
That's where I come in.
I can help you, and I've got no reason to want to sell you a big warranty package, or charge you hundreds of dollars for something meaningless. In fact, I purposefully undercharge.  I do this because I believe people are more than likely going to be repeat customers when they see the work that I do. In other words, I don't care about your money -- I care about solving your problems and fixing your gadgets. That's what I do, and I do it well.
So what do I charge?
For most computer work, I charge around $60 an hour.  For that, you receive absolutely first-class computer repair at a
fraction of what the big stores charge.  You also get down-to-earth, plain language technical support that you can understand.  You also get someone who does crazy things.  Ever hear of Best Buy taking a mouse apart and rewiring the buttons so that both the left and right click to the same thing? No? Well, I've done it.  In fact, here's a picture of that exact thing.
So in a nutshell, if you need help, I can and will get the job done. Think of me as an electronics tinkerer and IT mercenary...who collects videogames and flies model aircraft.
If you wish to contact me, my email address is anna at annahegedus dott com.  Good luck, and I hope to hear from you soon!
--Anna
Email - anna at annahegedus dott com (replace the at with @ and the dott with .)
Instant Messenger (AOL) - annathegadgeteer